Home
>
BTS Cabinet Systems
>
RT-1 Powerhouse
RT-1 Powerhouse
generator Jump cart:
Provides on-site, immediate action
resolution to generator failure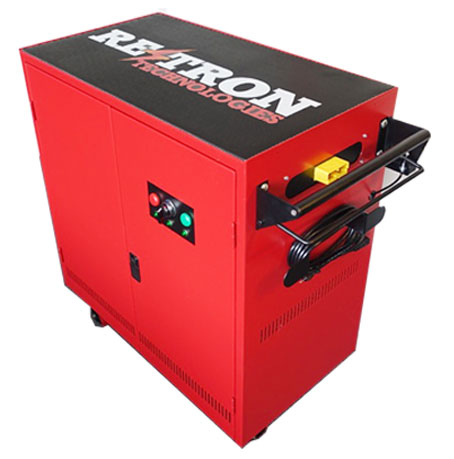 When you're "on the ropes" facing a mission critical emergency, the solution is in-house, ready to roll and with the POWER to immediately jump-start any generator. With the self-charging, 24V DC-3300 CCA Powerhouse Jump Cart on site, one person can roll it over to any size generator, plug in the 25-foot cable and "POW!" quickly jump-start any size generator. Even the largest at 2+ megawatts. Once the generator has restarted, the cart may be left connected indefinitely while the generator is running. The RT-1 Powerhouse features a built-in control panel with a power-on indicator built into the on/off switch. Plus, a red internal charger light and a green jump start ready indicator light. The cabinet houses six high powered VRLA batteries wired at a 24VDC buss and will operate from any 110V AC outlet.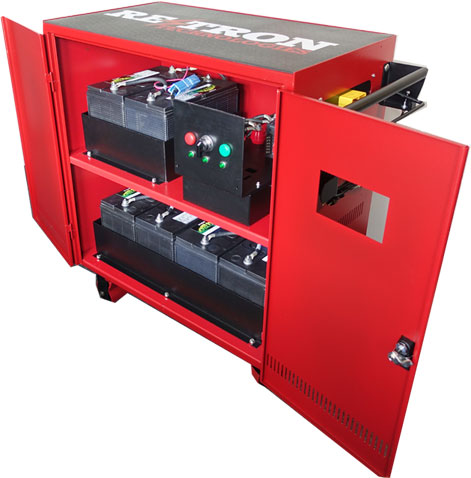 How does it work? Unlock and roll
Cart fabricated from heavy-duty welded carbon steel
Fully powder coated inside and out
Easily rolls on four heavy-duty, ball-bearing, greased fittings casters
Automatic braking system that can lock the casters in a stationary position
Self-charging from any 110V AC outlet
25-foot long jumper cable made of paired 1/0 flexible, stranded cable
Set of 800 AMP clamps and a pigtail set with two Anderson connectors, which can be pre-connected between the batteries and the starter on the generator
Custom length pigtails are available for specific generator configurations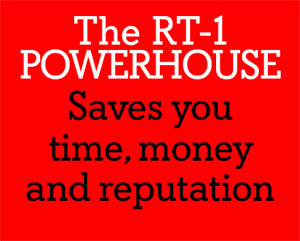 The Powerhouse Jump Cart:
An invaluable diagnostic tool
When a generator fails to start on auto-start or manual start, one of two things have probably failed; either the batteries and/or charger have failed, or the generator itself has mechanical/internal problems. By connecting the Powerhouse Jump Cart, the problem of non-start can be easily diagnosed. Thus, companies who maintain generator systems under service contracts can identify whether they should change-out a faulty battery or suspect battery charger, instead of sending a single technician to assess a customer's possible failure mode, or an even a more costly high-level service vehicle manned with diesel technicians and carrying spare parts.
Quick facts
Built-in self-charging guarantees fully-charged ultimate power
Rolling work station reduces labor costs, OSHA violations and lifting injuries
Control handle for steering ease
Control brake designed for easy modulation, allowing from slight drag to full stop/lock
Industrial-quality castor mounted wheels
Washable non-slip heavy duty customizable mat covers cabinet surface
10 ft. AC line cord
Power-on indicator built into on/off switch
Easy On/Off switch: Red Internal Charger indicator light: Green Jump-Start Ready indicator light
Cabinet houses six high powered VRLA batteries wired at a 24VDC buss
Easy access doors to internal components
Will operate from any 110V AC outlet
Fabricated from heavy duty welded carbon steel, and is fully powder coated inside and out
25-foot long jumper cable made of paired 1/0 highly flexible, stranded cable that is supplied and plugs into the cart through a large Anderson style connector
Dimensions:
34.5W x 16D x 37.25H (inches)
876W x 406D x 947H (mm)
Weight with batteries: 805 Lbs