Home
>
BTS Cabinet Systems
3 fail-safe solutions to back-up reliability for your entire facility needs
3 fail-safe solutions to back-up
reliability for your entire facility needs
Today's growing necessity of mission critical equipment such as uninterruptible power supplies, back up generators, DC telecom plants, emergency lighting, security, alarm, switchgear, renewable energy and all other "must never be without" critical battery components can now be available 365 days a year and, most importantly, at the end user's "beck and call" thanks to Re-Tron's battery back-up systems.

BTS-1 12 and 16 volt
Battery to Spare back up cabinet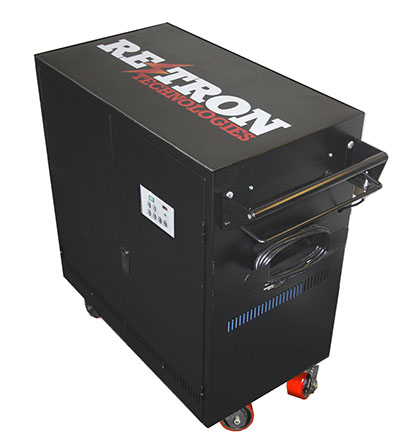 Precious downtime is reduced to just minutes with this mobile, self-monitoring, fully-charged spare battery backup cabinet system. The Re-Tron BTS-1 Battery To Spare Cabinet is the fail-safe smart solution for rapid response to battery failure. This rolling work station contains everything needed to swap a failed battery out with a proper, fully charged replacement battery in minutes.

BTS Bigboy fully charged
complete facility spare
battery replacement system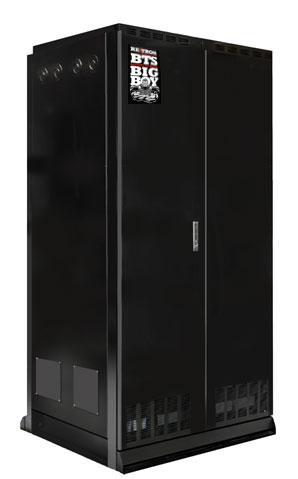 The Re-Tron Big Boy Spare Battery Replacement System is a versatile, stationary battery cabinet that can house a variety of fully-charged and ready to go critical spare replacement batteries. The Big Boy is customized to house each customers specific battery needs and, as long as they are in a 12 volt or 16 volt VRLA configuration, batteries can be mixed, matched and integrated together, in one single cabinet enclosure. The built in charging regime and self monitoring control panels are engineered and configured to your specific battery types and are ready on site 24/7.

RT Powerhouse
generator jumpstart cart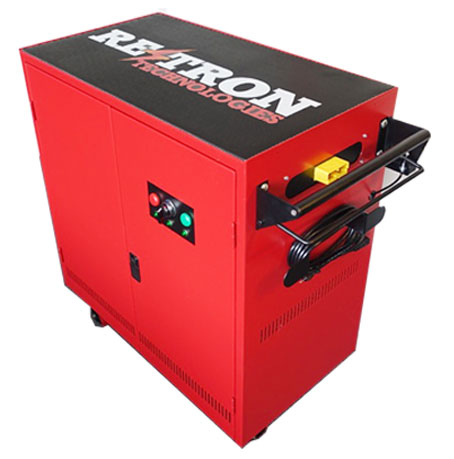 The on site, mobile, self-charging 24V DC-3300 CCA jumper cart that can immediately jump start the largest (2+ megawatt) generators instantly and multiple times over.The Powerhouse Jump Cart dramatically reduces the downtime due to a starter battery failure, the expense of sending or re-sending service technicians and eliminates the need to jump out batteries for long periods.